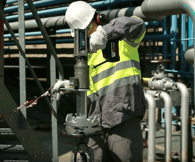 Discover our comprehensive and modular range of portable valve actuators.
This tool is a must-have for industry operators to open and close all types of manual valves quickly, efficiently and safely.
Our portable actuators reduce considerably valve operating time and operators effort when operating manual valves.
Why choose between efficiency and safety for your valves field? Get both with our solution!
Included in our catalogue:
All our actuators range, adaptors for all types of wheels, torque management system, options and accessories
Some application examples
Applications sheets regarding your environment and your installations